Vol. 5 (2017): HPS: The Journal of History and Political Science Vol. 5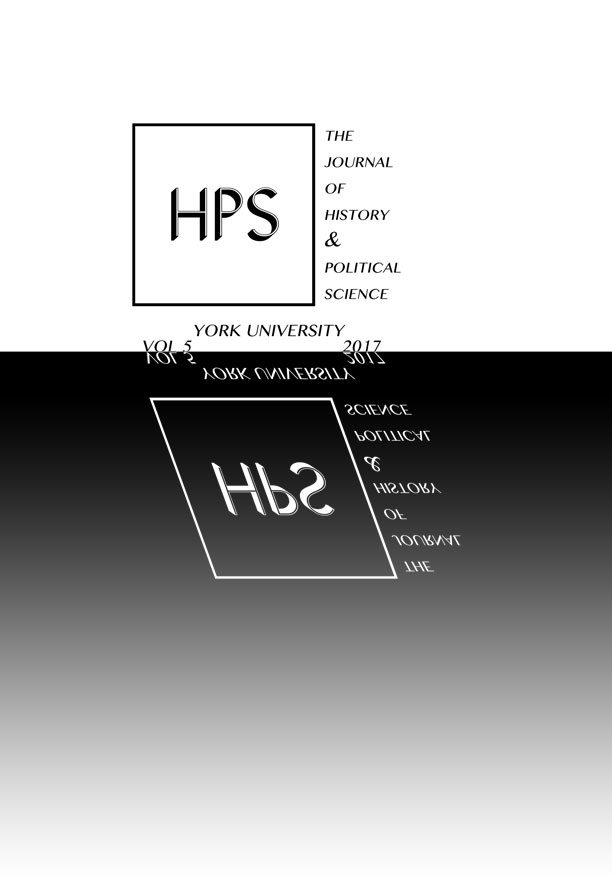 HPS: The Journal of History & Political Science is a student peer review journal publishing undergraduate scholarship and is affiliated with the departments of history and political science at York University, Toronto, Canada.
Our fifth publication is a truly collaborative effort and its quality would not have been possible without the work and dedication of many people at the undergraduate and graduate levels at York as well as other universities.
2016-2017 Editorial and Review Boards
Editor-in-Chief, Managing Editor, Graphic Designer: Val Muzik (McMaster)
Outreach Director, Financial Director: Anna Ianovskaia (York)
Managing Editor: Stephen Firang (York)
History Dept. Outreach: Ryan Targa (York)
Political Science Dept. Outreach: Mario Concordia (York)
Internal/External Outreach: Sidey Deska-Gauthier (York)
Social Media: Justyn Mahanger (York)
Reviewers: Mishall Ahmed (York), Anusha Bhadra (York), Nabil Bhatia (York), Melissa Blackie (York), Mario Concordia (York), Harrison Forsyth (York), Justyn Mahanger (York), Jordan Mota (McMaster), Hassam Munir (York), Ryan Targa (York), Lionel Widmer (York), Darren Zanussi (Carleton)
Special thanks to: Dr. Stephen Gill, Dr. Dennis Pilon, Dr. Jesús Bermejo Tirado